May 15, 2021
Optimism in the global economy is rising sharply as lockdown restrictions are lifted and the vaccination rollout continues. The UK's economic bounce back comes at a time of greater consumer confidence (and savings) and a period of 'revenge spending' looms. With the improved economic environment, Netherside expects that business owners could see increased profits, the creation of new jobs, improved business confidence and increased capital investment - each will have a positive effect on the valuation of business.
Executives are remaining positive on their outlook of the global economy despite the continued dwarfed growth due to the pandemic, according to the latest McKinsey Global Survey (2021).
The survey received responses from business leaders across all continents and a large 73 percent believe that conditions in the world economy will improve in the next six months - this is the largest share since the beginning of 2021.
On a domestic level, signs of optimism are also consistent across regions, with respondents from North America, Greater China, and Europe most optimistic in the prospects of their own economies. Despite growing confidence, however, respondents in every geography unsurprisingly still list the pandemic as the greatest risk to domestic growth, followed by unemployment. This is most prevalent in India, where the spread of new variants has caused unimaginable strain on health care systems and businesses alike.
As the restrictive chains of lockdown are released here in the UK, pent-up demand from consumers has led to positive signals from the Bank of England. As demand for services grows, the return to 'normal' business operations will see the UK economy expand by 7.25% this year, the fastest growth in more than 70 years (albeit following a contraction of 9.9% in 2020). The strong recovery will see economic levels bounce back to their pre-pandemic levels by Q4 2021.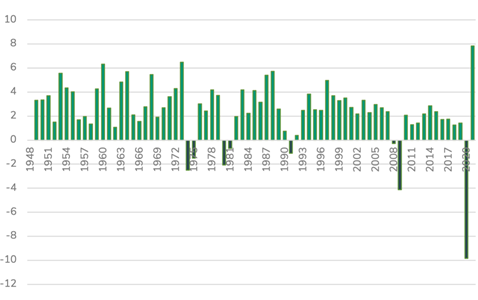 Table: Historic UK GDP Growth Percentage with 2021 Forecast (ONS; Bank of England).
The economic growth in the UK is no doubt linked to 'revenge spending' as limited spending opportunities across numerous lockdowns have given a further boost to consumers' personal finances. According to research from Deloitte (2021), consumer confidence about their household levels of disposable income jumped by a significant 17 percentage points year on year to -10% the highest level recorded for that measure.
Combined with near-record levels of savings, these results suggest that if consumer confidence continues, extra-cash spending will be the driving force for growth in the reopening economy. As the vaccination rollout gains full momentum, the upcoming further easing is sure to unleash pent-up demand for non-food categories, leisure, and travel services.
Seeking expert advice for your post-COVID strategy? At Netherside Consulting, our team gets under the skin of your business to create a strategy for growth. Get in touch: info@nethersidecg.com
References:
McKinsey & Company (2021) The coronavirus effect on global economic sentiment, April 2021. Availabel here
Deloitte (2021) The Deloitte Consumer Tracker Q1 2021. Available here
BBC News (2021) UK economy set to grow at fastest rate in more than 70 years. Available here